Featured Image from: Time of Israel
The museum at the site of the former Nazi death camp in Sobibor has been gotten a last minute reprieve, as the Polish government promised this week to finance the opening of the museum for the next season.
Having exhusted its financial sources, the museum was faced with closure at the end of this month, but will now open to visitors from May 1. On Friday, the Ministry of Culture and National Heritage took over the facility and declared its willingness to operate the site, which so far was in the hands of the Starostwu Wlodawa district.
From the beginning of next year, the former death camp will become a state institution. Until then, the facility maintenance costs will be divided between the government and the district's department of culture. Mr. Wiesław Holaczuk, Head of Wlodawa District Office said: "I hoped that the verbal declarations by the representatives of the government ministries will be translated into action. Otherwise, I can not say how long we can open Sobibor museum to visitors."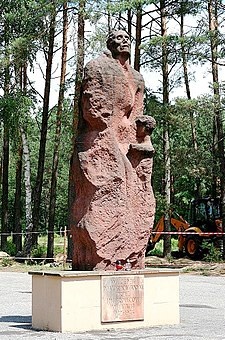 According to him, so far the costs of maintaining the museum were covered by a special program at the Polish Ministry of Culture and National Heritage. "On the basis of this we received from this program 150 to 350 thousand Zł annually from. But as of last year the program was closed" said Holaczuk.
Sobibor camp was built by Nazis in 1942. Jews from Poland, France, Germany, Holland, Czechoslovakia, and Soviet prisoners of war were transported to Sobibor by rail, and suffocated in gas chambers. Sobibor was an early extermination camp,  and its gas chamber used the exhaust fumes from a captured Soviet tank's engine to kill its victims.  The number of people murdered at the camp is estimated between 165,000 to 350,000.