Man caves have long been established as havens for men who tirelessly work daily. It's considered a place where worn-out men go to recharge, unwind, and leave their worries behind. But as good as that place sounds, it brings up a question. Why is it exclusive for men?
Women also play key roles in society. Mothers mold the world's future. You are the partners who share the world's burdens. And most importantly, you do all these things while still having your own individual goals, careers, and accomplishments.
Suffice to say, women are also entitled to have their own space. Whether it's used as an escape to enjoy your hobbies and relax or as a room to entertain company, having your personal space is a must.
And with that in mind, here are six things you have to consider when building your own lady lair:
1. Location
Where you set up your lair determines the success of your plans. Choosing the right location that can balance your needs and responsibilities as an individual is the key to making it work. Here are the vital questions that you should consider before finalizing your lair's location.
Is it distant enough for you to have privacy?
Will it still be accessible in case of emergency?
Can there be an alternative exit that you can take as a precaution?
Will the location be convenient enough for you to go back and forth to?
If all your answers are yes, then you're on the right track. You should also remember to consider the main and most common activities you'd be doing inside that lair and adjust the location based on them.
2. Purpose
Knowing what you need it for and how you'd use it should be the main factors to consider when designing and building the place. Other designs and furniture should navigate around a centerpiece. For example, a personal room made for music should have a grand piano (if you play one) at the center, and with it, you'd adjust the acoustics of the space. Another good idea is to have giant bookshelves as the centerpiece of a literary arts–focused room with a built-in fireplace and cozy couches to complement them.
The key is to choose the activity that relaxes you the most and let the theme revolve around it.
3. Space
Women are known to be tidier. Since you already have that going for you, making sure your room is clutter-free will be easier. Maximize minimalism to your heart's content. Choose furniture and appliances that are multipurpose and less space-consuming. Sliding doors are better than regular ones for optimal space usage. You can also get cheap packages for sliding door hardware, hinges and pivots, and even smart lock systems from online wholesalers like Banner Solutions. Even something as simple as an ottoman can be ideal since it's both a storage unit and a chair. You can use life-size mirrors that double as closet doors to not only make your room look bigger but provide extra space. The idea is to save more space so you can have the freedom to breathe when the going gets tough.
4. Lighting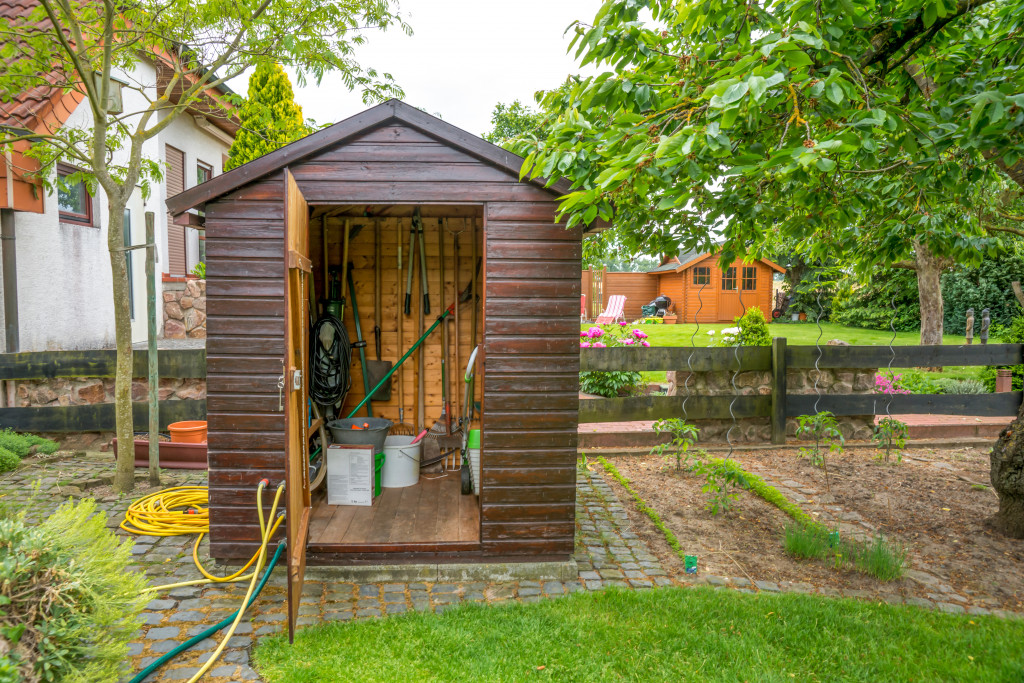 In contrast to the more common dark man caves, your she shed must utilize natural light as much as possible. Make it a point to have at least four windows. The size can be as big as a wall, depending on how much privacy you want. Getting a skylight is also a great idea if the budget permits. But a cheaper trick is to paint the walls white or variants of that shade to make your room brighter.
Getting multiple mirrors can also help in this matter since they can reflect light, making your lair more spacious and vibrant at the same time.
5. Atmosphere
Since the plan already includes having multiple windows, make sure that you can easily open those windows as well. Unlike man caves, proper ventilation will be important in maintaining the mood in your lady lair. You can also add plants that can help beautify the place while filtering the air better. Scented candles can also do the trick and even set romantic and calming vibes.
Like with the lighting, your lair's color scheme will directly affect the atmosphere as well. Choosing calming colors like sky blue, beige, and lavender can give you the relaxing boost that you need. But if you have money to spare, getting a fireplace can add more class to your wine nights.
6. Comfort and Convenience
Lastly, your comfort should always matter. Not being comfortable in your lady lair defeats its purpose. Getting a built-in bar can be a great addition to your sanctuary. Add in a fridge to keep the sangria cold, a microwave oven to make sure you won't get hungry, and a huge sofa where you can casually enjoy your drinks and food.
Personal space is important for your mental health. Having a place you can escape to will only help you become more mentally stable. And in a time plagued by the COVID-19 pandemic, taking care of your mental health is one of the top priorities you should have.