Careers in the STEM (science, technology, engineering, and mathematics) industry have long been seen as valuable and in high-demand professions. The people working in these fields are usually the forerunners for development and innovation in their industries. Not only that, the STEM industry deals with vital things people need in their everyday lives. Furthermore, many have long considered STEM jobs as jobs that pay well (ex., being a doctor, engineer, or IT programmer).
But have you ever stopped and wondered why this is so? The high pay and the value seen in STEM careers are because these jobs require highly specialized skills and an intensive amount of training and education to master the knowledge in these fields. Although jobs in the STEM industry are growing, so is the need for people with these skills to fill these fields.
Some people enter the STEM industry only to burn out and leave. Or some enter but find themselves lost as to how to proceed with their career. If you plan on entering the STEM field or are a little unsure of where your STEM career is going, take note of the career advice listed below.
Plan Your Career
Your goals in life will influence the things you do and the choices you make. If you entered the industry because your parents made you or you are at a point in your career where things have become stagnant, it is essential for you to figure out your why. What are some things you would like to improve in your career? What is your reason for being here? Take time to sit down and reflect on your career, whether you have just started working in the STEM industry, working for a few years, or working for several decades already. Sit down and think about where you would like to see yourself 10 to 15 years from now. Having career goals will help guide your career plan.
Build Your Skills
No matter your career plan, you will need skills to get there. And that means constant improvement and building upon the required skills to excel in the STEM industry. No doubt you have already had practice with your math and science skills while in school. But aside from those skills, focus on putting your problem-solving, creativity, critical thinking, and inquiry skills to the test. Furthermore, make sure to be open to collaborating with your co-workers and managing conflicts in an uplifting manner. These skills will help you no matter what job level in a company—from a newbie to someone who manages multiple teams and projects.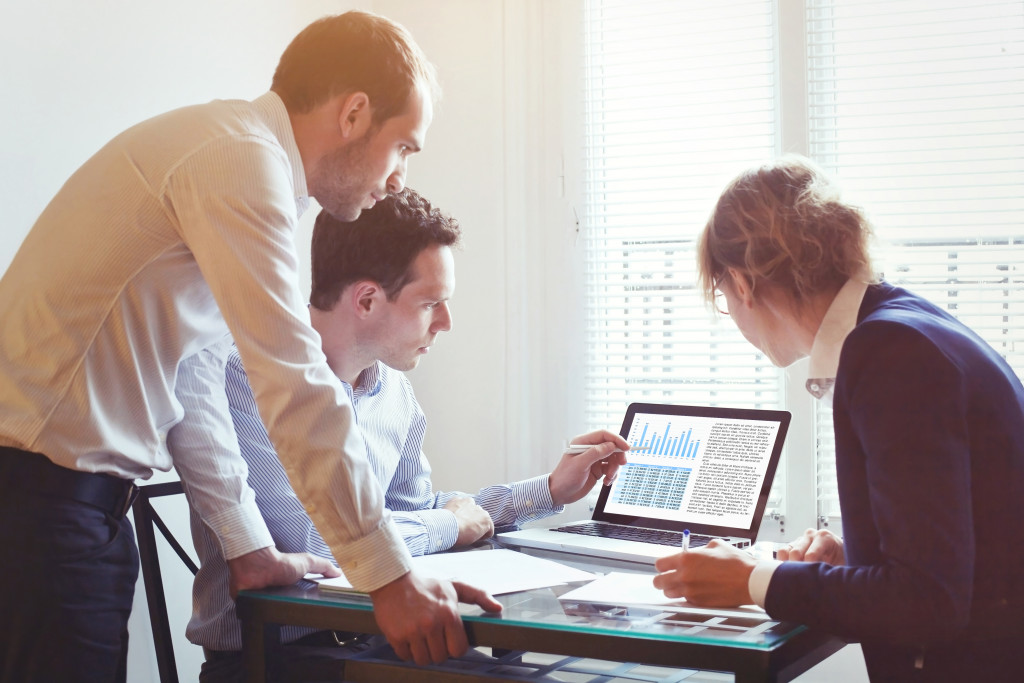 Get Credentials
Nothing beats real-life experience, but many companies value seeing certifications and proof that you have the credentials to back up your skills. There's a reason many people jump at the opportunity to join training sessions, seminars, or go back to school to earn diplomas or their PhDs. A higher level of education will reflect well on your skills with potential companies.
If you're feeling stagnant at your current level, consider going back to school to earn credentials, hopefully opening more opportunities for you. If you are in the IT industry, focus on getting credentials for popular programming languages or certificates in specific fields in the industry, such as CompTIA A+ certification.
Learn from a Mentor
An essential factor in career movement that is not discussed enough is having a mentor work with you. These people are usually your seniors in the industry. As you navigate your career, their advice and encouragement will be priceless to you. Do your best to seek out someone you feel comfortable with and who will give you the needed advice as you begin your career or whenever you need to make important career decisions. As they will have had more experience than you, mentors will often notice the things you need to improve on and can also give valuable information and knowledge about the industry you both work in. They will be able to share knowledge on working smarter, not harder. In a way, they can also help connect you with others in the industry, helping widen your social network.
Don't Get Comfortable
Finally, continue to seek improvement in yourself. When you become complacent, you settle for where you are at. To reach your career goals, continue to push yourself. Once you get comfortable, the drive to be better and do better will decrease. Seek out challenging opportunities, be open to meeting new people and learning new skills, and look for ways to help wherever you are placed. Along with the above-stated advice, doing this will help keep your career path exciting and rewarding.
The STEM industry can provide long, fruitful careers. However, whenever you feel in a rut, don't hesitate to expand your knowledge by furthering your education or asking for advice. Doing so will help you keep going in this industry.